In addition to tapping, equivalent to conventional touching, the touch panel of the machine can be operated by long touching, flicking and sliding.
Operation types
Tapping
Touch the panel with your finger and then lift it quickly. Use this method to select a key, tab or check box.

Long touching
Touch the panel with your finger and hold it for a while.
Double tapping
Lightly tap the touch panel twice. Use this function to switch a preview mode or to enlarge a preview image.
Flicking
Flick the panel to scroll a preview image quickly.
Sliding
Slide the scroll bar (with your finger touching the panel) to scroll up and down a list with a large number of items.
Dragging
Drag (slide your finger touching the panel in a random direction) to replace a page in the original during preview.
Operation on respective screens
Key (tapping)
Tap to select an item. The selected key turns into a different color.
Tap numeric keys to enter numbers.
Tap to increase or decrease the value. Long touching causes the value to be increased or decreased until you stop touching.
Activate to enable the setting.
Tapping finalizes the setting and then closes the screen.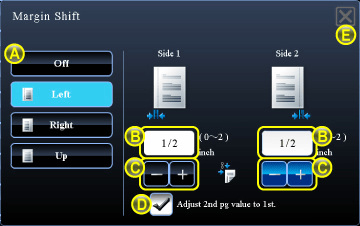 01006001.jpg
List (tapping, sliding and flicking)
Tap to select an item. The selected item changes to a different color.
Drag the bar up and down.
It appears when the item does not fit in the screen.
Flick the key upwards or downwards. The item scrolls up or down.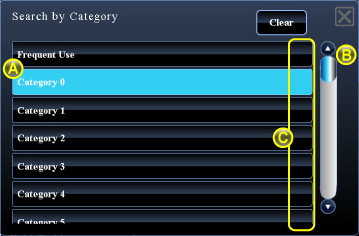 01006003.jpg
Slide the knob from side to side.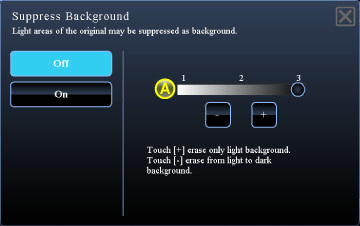 01006004.jpg
Tap a tab to switch what is displayed.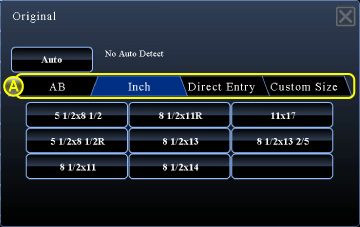 01006005.jpg