Use the bypass tray for printing on plain paper, envelopes, label sheets, tab paper, and other special media.
Up to 100 sheets of paper can be loaded (up to 40 sheets of heavy paper) for continuous printing, just like operation using other trays.
When using plain paper other than Sharp standard paper or special media other than SHARP-recommended transparency film, or when printing on the reverse side of previously used paper, load paper one sheet at a time. Loading more than one sheet at a time will cause misfeeds.
Before loading paper, straighten any curling in the paper.
When adding paper, remove any paper remaining in the bypass tray, combine it with the paper to be added, and reload as a single stack. If paper is added without removing the remaining paper, a misfeed may result.
How to place the original
Load paper up to 7-1/4" x 10-1/2" (A5) size in landscape orientation.
Loading tab paper
To print on tab paper, load tab paper into the bypass tray with the print side facing down.

Use only tab paper that is made of paper. Tab paper made of a material other than paper (film, etc.) cannot be used.
To print on the tabs of tab paper:
In copy mode, use [Tab Copy] in "Others". In print mode, use the tab print function.
Inserting transparency film
Use SHARP-recommended transparency film.
When inserting transparency film into the bypass tray, the rounded corner should be at the front left when the film is placed in the landscape orientation, or at the far left when the film is oriented in the portrait orientation.
When loading multiple sheets of transparency film into the bypass tray, fan the sheets several times before loading.
When printing on transparency film, remove each sheet as it is printed and output from the machine. Allowing sheets to stack in the output tray may result in curling.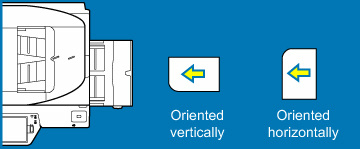 Loading envelopes
When inserting envelopes in the bypass tray, place them aligned to the left side in the orientation shown below.
Loading envelopes
Only the front side of envelopes can be printed or copied on. Place the front side facing down.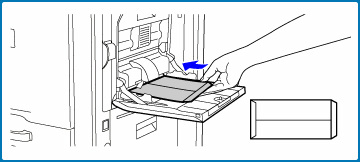 Important points when using envelopes
Do not print on both sides of an envelope. This may result in misfeeds or poor print quality.
Restrictions apply to some types of envelopes. For more information, consult a qualified service technician.
Some operating environments may cause creasing, smudging, misfeeds, poor toner fusing, or machine failure.
Do not use the following envelopes:

Those with a metal piece, a plastic hook or a ribbon hook
Those with a string for closing
Those with a window
Those with a lining
Those with an uneven surface, finished with titling or emboss
Duplex envelopes or those with adhesive or other synthetic material for sealing
Hand-made envelopes
Those containing air inside
Those damaged with a crease, fold mark or tear

Envelopes with the corner gluing position on the back not aligned with the corner edge should not be used as it may cause creasing.
Print quality is not guaranteed in the area 13/32" (10 mm) around the edges of the envelope.
Print quality is not guaranteed on parts of envelopes where there is a large step-like change of thickness, such as on four-layer parts or parts less than three layers.
Print quality is not guaranteed on envelopes having peel off flaps for sealing the envelopes.