This function increases the thickness of the entire line when the print lines are not clear in CAD or other special applications.
When the data includes lines of varying widths, you can print all lines at the minimum width as necessary.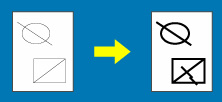 This function is available in a Windows environment.
This function can be used when the PCL6 printer driver is used.