If you configure your e-mail account in the machine, the machine periodically checks your mail server and automatically prints received e-mail attachments without using the printer driver.
To perform e-mail print:
In "Setting mode", select [Application Settings] → [E-mail Print Settings], and register your e-mail account. (Administrator rights are required.)
Performing e-mail print
Using your PC's e-mail software, specify the e-mail address of the machine in "Address" and send e-mail attached with a file to be printed.
Control commands can be entered in the message of the e-mail to specify the number of copies and print format.
Commands are entered in the format "command name = value" as shown in the example to the right.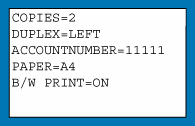 As an example, the control commands include the following:
Function
Command name
Values
Copies
COPIES
1-999
Staple *1
STAPLEOPTION
NONE, ONE, TWO, SADDLE
Punch *2
PUNCH
OFF, ON
OUTPUT
COLLATE
OFF, ON
2-sided Print
DUPLEX
OFF, TOP, LEFT, RIGHT
Account Number *3
ACCOUNTNUMBER
Number (5 to 8 digits)
File Type
LANGUAGE
PCL, PCLXL, POSTSCRIPT, PDF, TIFF, JPG, XPS
Paper
PAPER
Paper that can be used (LETTER, A4, or others)
DOCUMENT FILING
FILE
OFF, ON
FOLDERNAME
Up to 28 characters
Quick File
QUICKFILE
OFF, ON
Output tray
OUTTRAY
CENTER, RIGHT, FINISHER
Black & White Printing
B/W PRINT
OFF, ON
Fit To Page
FITIMAGETOPAGE
OFF, ON
*1

Enabled only when a finisher or a saddle finisher is installed.

*2

Enabled only when a punch module is attached to the finisher or saddle finisher.

*3

Can be omitted except when authentication is by user number.
The mail text must be in a text format. If entered in Rich Text format (HTML), the commands will have no effect.
If you enter "Config" in the mail text, a list of control commands is returned.
If nothing is entered in the body text (message) of the e-mail, printing will take place according to the settings configured in "Setting mode" → [System Settings] → [Printer Condition Settings] → [Default Settings]. If you print a file that includes print settings (i.e., PCL, PS, or XPS files), the settings will be applied.
Enter a file type only when you wish to specify the page-description language. Normally there is no need to enter a file type.