When the machine cannot print because it is out of paper or out of toner, received Internet faxes are forwarded to another previously registered Internet fax address (including direct SMTP).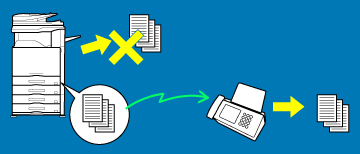 Forwarding is not possible if no faxes were received or a forwarding fax number is not programmed.
If some pages of a fax that is being forwarded were successfully printed, only those pages that were not printed will be forwarded.
If forwarding was not successful because the transmission was canceled or a communication error occurred, the faxes that were to be forwarded will return to the machine's the print queue.
If a password entry screen appears after tapping the [OK] key, "Hold Setting for Received Data Print" has been enabled. Enter the password using the numeric keys to begin forwarding.