PRINTING ON
ENVELOPES

IN A WINDOWS ENVIRONMENT
Overview
The bypass tray can be used for envelope printing.

Operation
Select the envelope size in the settings of the application ("Page Setup" in many applications) and then perform the following steps.
Click the [Paper] tab and select the envelope size from the "Paper Size" menu.

Select [Bypass Tray] from the "Paper Source" menu of "Paper Selection".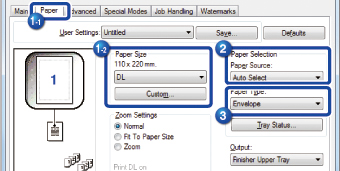 Select [Envelope] from the "Paper Type" menu.

Set the paper type of the bypass tray to [Envelope] and load an envelope into the bypass tray.
Back to top